This article will likely make your blood boil a bit. It 's about the awful, awful science behind making junk food addictive.  Big business food producers are pretty evil - here's a quote from a guy who decided to speak up against Coca Cola:
Dunn told me that talking about Coke's business today was by no means easy and, because he continues to work in the food business, not without risk. "You really don't want them mad at you," he said. "And I don't mean that, like, I'm going to end up at the bottom of the bay. But they don't have a sense of humor when it comes to this stuff. They're a very, very aggressive company."
It is well worth a read.
WOD for 130226
Strength: 7x1 hi hang squat clean + 1 push jerk
5 Rounds for time and weight 5 Deadlift at 1.5x Body weight 5 Kettlebell Shoulder Press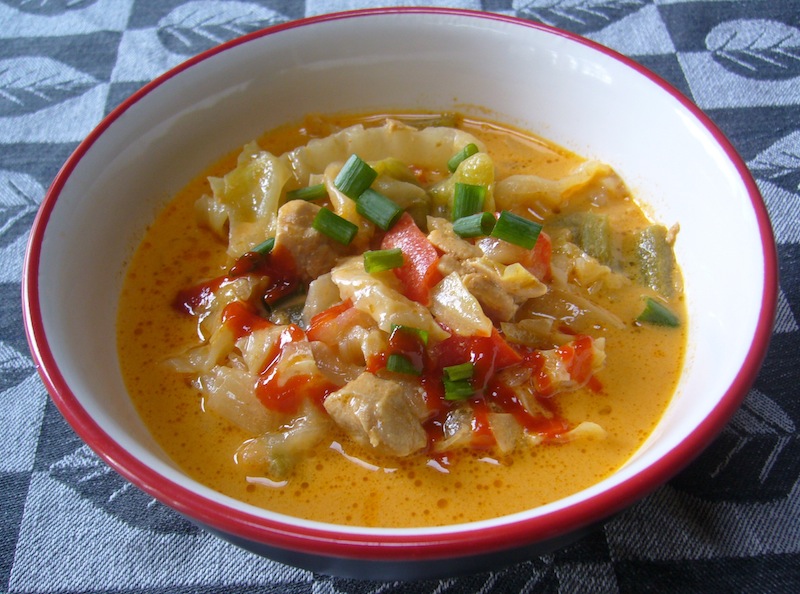 Ingredients:
1 to 1.5 pounds of boneless chicken thighs – I pick these over chicken breasts because I find them tastier, and they are often cheaper.
1 or 2 cans of coconut milk – I used 2 cans because Trader Joe's has them for 99 cents and I love coconut milk more than you know. One could get away with a single can if it is pricey for you, yet you will simply have a thicker curry
Curry paste – Types and amounts obviously vary. I use the paleo-friendly brand Thai House, and used about 3 tbsp of their Red Curry.
1 small yellow onion
1 medium red bell pepper
1 medium green bell pepper
1/2 head of cabbage. You could use more if you wanted to.
Instructions (this is easy):
Turn your crock pot on before you start your prep, and get a head start.
Pour your coconut milk into your Crock Pot and add your curry paste. Make sure you stir until dissolved in the coconut milk. Some recipes will call for you to do this in a sauce pan first, yet I really would rather not do more dishes than I have to.
Cut your chicken thighs into 1″ cubes. Don't be fancy. Just cut them up and dump them into the pot and stir.
Cut your red and green peppers into similar 1″ cubes. Dump into pot and stir.
Cut your onion into similar chunks, you get the idea.
Cut your head of cabbage in half, and quarter the half you are going to use. Simply cut the wedges into thin strips and then break apart with your hands. This is much easier than using a grater, and you can always chop the cabbage to your desired shape. I personally wanted longer pieces. Add the cabbage to the top of your pot and again stir, trying to coat the cabbage with the coconut milk. It is fine if the cabbage is not submerged, it will cook down.
Cover and let cook on low for 4 hours. This recipe should take about 10 minutes of combined prep and cleanup time, and is very cost effective. Like I said, this is quite likely the high point of my week, and I'm totally OK with that.
I chose to garnish mine with some scallions and red chili sauce. This is totally unnecessary, yet I am a huge fan of red chili sauce on most things